Have you had a chance to visit the Marcy Nanocenter lately? If so, you may have noticed the latest installation: "Vibrant Meridian."
This award-winning piece was co-created by artists Anaisa Franco and Michael DiCarlo, and is perfectly suited to the Nanocenter's aesthetic.
Composed of several steel sticks painted with complementary colors that create a vibrating effect when viewed in motion, the sculpture is a sight to behold. Anaisa Franco, a prolific artist whose public art installations can be found in Dublin, China, France, and other international locations, describes her work as "playful and interactive" art that "activates public spaces."
Co-artist Michael DiCarlo's practice is rooted in architecture and architectural methods, whose internationally recognized pieces—including those featured at Burning Man— also seeks to combine public interaction and experience. As DiCarlo notes, "A well considered installation in a public space can serve to beautify the space as well as enhance its functions, and ultimately improve the user (the public) experience."
Specific to the Marcy-SUNY Parkway and co-funded by GLDC and Mohawk Valley EDGE, "Vibrant Meridian" is meant to evoke a sense of setting with semiconductors at the forefront.
According to the artists, the sculpture design was inspired by semiconductor waffle. Structurally, the geometry of horizontal and vertical lines combined created a basis for the work. "By looking at all those parameters, we created an organic shape, something like giving a sculptural shape for what you could see in the semiconductor waffles," explained Franco.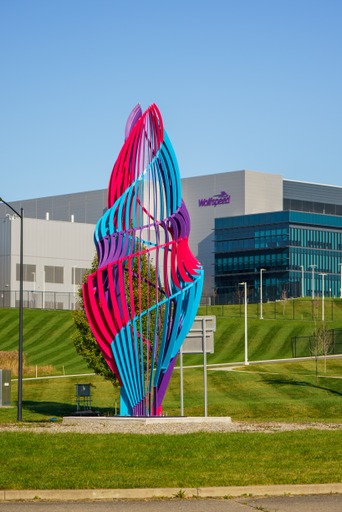 The design of the new sculpture, located near Wolfspeed, Semikron-Danfoss, and the SUNY Polytechnic Institute campus, has considered the surrounding terrain and the specific roundabout location. The sculpture features vertical elements with horizontal lines that create an illusion of vibration for those passing by. As the seasons change, the sculpture will remain resilient, made from durable, weather-resistant materials.
Inspired by a sense of place, the sculpture is an excellent addition to vibrant communities in the Mohawk Valley. Our vision is finally coming to fruition and the landscape has been permanently transformed for the better. From semiconductor successes to ongoing investments and a renewed sense of optimism in our communities, this vibrance is unmistakable.
Even in the soon to be snow coated landscape, "Vibrant Meridian" will shine.
For more information on Anaisa Franco: https://www.anaisafranco.com/
For more information on Michael DiCarlo: https://www.michaelrdicarlo.com/