Leading EDGE Awards (LEA)
The Leading EDGE Awards were instituted in 1998 to recognize companies in the Mohawk Valley who were leaders in their industrial sector and the regional economy. In the last two decades, we have welcomed a variety of area businesses and organizations to these events; both as award winners and as attendees. We hope the success of the Leading EDGE Awards may continually represent the breadth of our region's economic institutions and professional sectors.
We also continue to remember, honor, and celebrate a founding EDGE Board member Christopher Destito each year at this event.  He was a community champion who believed in the potential of the entire region.  The Christopher Destito Award was created to honor an individual who possesses the same characteristics as Chris. Among others, previous Destito Leading EDGE award winners include Charles Sprock, Charlie Constantino, Tom Clark, Nick Matt, Gene Quadraro, and Marolyn Wilson.
2023 Leading EDGE Awards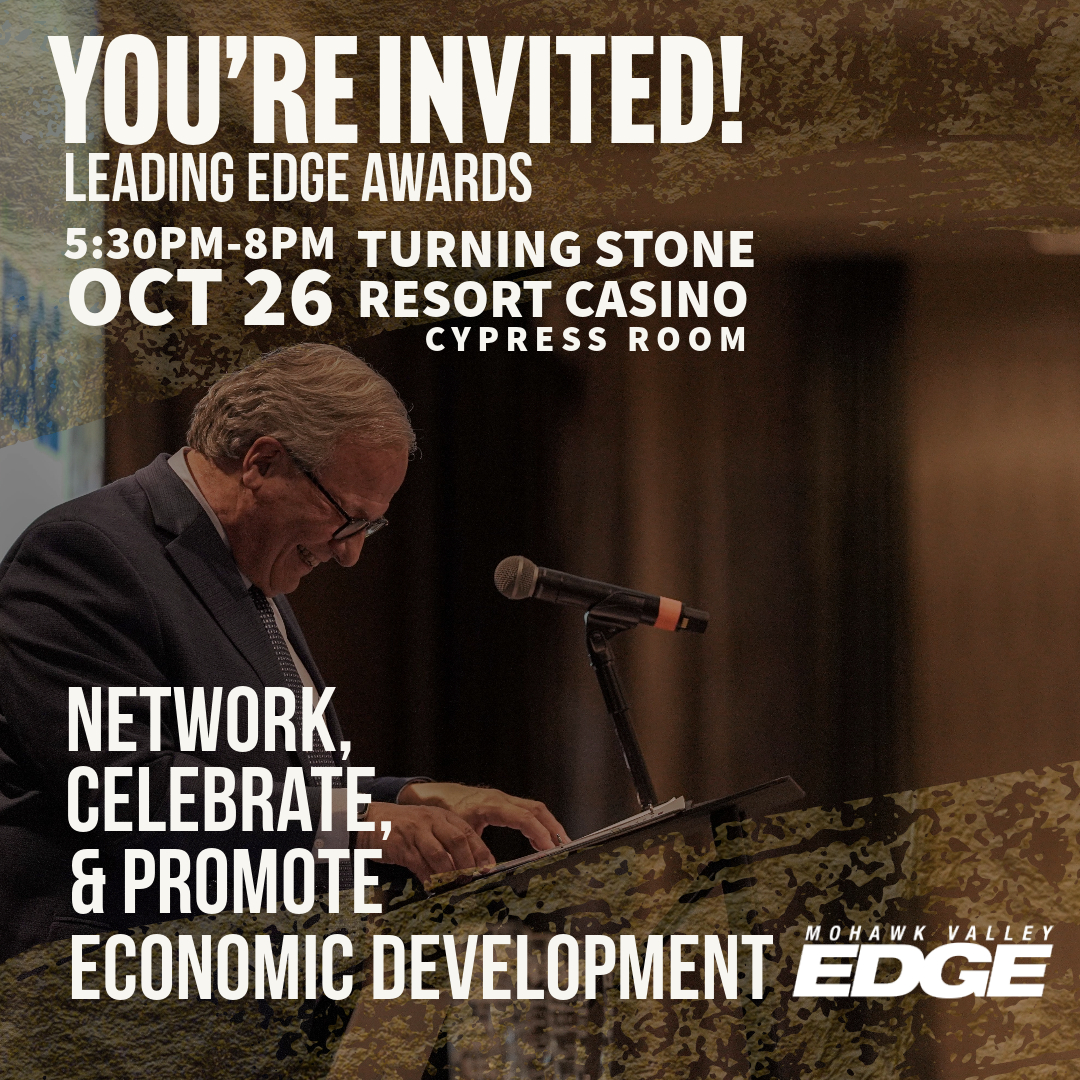 On Thursday, October 26th four area organizations and two individuals will be honored during our 22nd annual Leading EDGE Awards ceremony at Turning Stone's Cypress Room.
Leading EDGE honorees represent those at the cutting edge of innovation, economic growth, and leadership. This year, EDGE is proud to recognize the longstanding companies located in the Mohawk Valley. With over 500 years of combined impact, our awardees exemplify the strength and determination of keeping their businesses successful. As the bread and butter of our communities, these legacy businesses are unmistakably Mohawk Valley.
This year's Leading EDGE Award recipients are:
Hale Manufacturing
Munson Machinery
Utica First Insurance Company
Combined with their standout stories, we will posthumously honor two area innovators as Christopher P. Destito awardees. Francis Eugene ("Gene") Romano of Pacemaker Steel and Piping Company and Charles A. ("Chuck") Gaetano of Gaetano Construction are our honorees, both of whom made lasting contributions with outstanding legacies.
Join us in celebrating our honorees!
THURSDAY, OCTOBER 26TH  FROM 5:30-8PM
TURNING STONE RESORT CASINO'S CYPRESS ROOM
LEA: From Past to Present