KEEPING WORKFORCE ON COURSE
"Keeping Workforce on Course" was designed around top-asks from our regional business and community leaders. From legacy businesses to upskilling, the new mega-project next door, the semiconductor industry, and more, this program featured feedback from site selector industry experts Andrew Ratchford and Monty Turner. 
The program outlined ongoing trends and metrics from the world of workforce. Though this presentation and discussion was guided by national trends, our speakers kept the Mohawk Valley in mind while shaping their thoughts and the discussion.

About Our Speakers
Andrew Ratchford is a Director at Site Selection Group, focusing on industrial site selection and Economic Development consulting engagements. He is located in Greenville, South Carolina, and provides site and infrastructure analysis, as well as analytical and strategic support.
Andrew's professional experience includes over three years at Global Location Strategies as a Senior Consultant, where he provided site selection consulting as an integral part of the Global Location Strategies team with a particular focus on energy, mobility, chemical, and consumer product sectors for clients such as Georgia Pacific and Nacero. During his time there, Andrew supported the placement of more than $7.5 billion in announced capital investment. He also managed site readiness and evaluation programs for CSX Select Sites, Tennessee Valley Authority, and numerous local economic development groups.
Before Andrew found site selection, he managed investments for Graycliff Capital Partners, a private equity-backed real estate development firm, where he supported $300 million in equity deployment and oversaw a capital improvement program resulting in $87 million in capitalized value. He also worked with Greenville County, South Carolina as a Principal Planner where he oversaw area/city master plan developments, grant administration, and ordinance development.
Knowing the value of community, Andrew gives back by serving as a committee chair on the Clemson University Executive MBA board and by serving at his church. During his free time, Andrew enjoys playing music, hiking, cheering on the Clemson Tigers, and spending time with his wife and two daughters.
—
Monty Turner is Senior Vice President at Colliers, and serves as Chair of Economic Incentives practice group to assist in leading Colliers' national site selection and incentive negotiation services business line – guiding clients looking to invest in new expansions or relocation alternatives. As the facilitator of Colliers' proprietary site selection modeling tool, Indsite®, Monty executes multi-state corporate location decisions through consulting engagements focused on labor analytics, utility infrastructure, logistics, taxes, environmental considerations, economic incentives and overall business climate.
During the span of his career, he has consulted on projects with an estimated capital investment of over USD $6 billion and new direct employment of over 3,000. He has had the privilege of working with clients across North America, South America, Europe, Middle East, and Asia in an array of industries including operations in manufacturing, distribution, and office. His clients include both domestic and international companies looking to invest within the United States and abroad.
In 2018, Monty was peer recommended and accepted into the leading industry group, the Site Selectors Guild. As a voice for the next generation of site selection professionals, Monty has spoken widely on site selection and strategic negotiation strategies at conferences hosted by the American Chamber of Commerce Executives, Mississippi Development Authority, University of Georgia's Carl Vinson Institute of Government, Southern Company, Tennessee Valley Authority, among others and has written for industry magazines such as Area Development and Trade & Development.
—
Thank you to our co-sponsors for their support in making this program possible!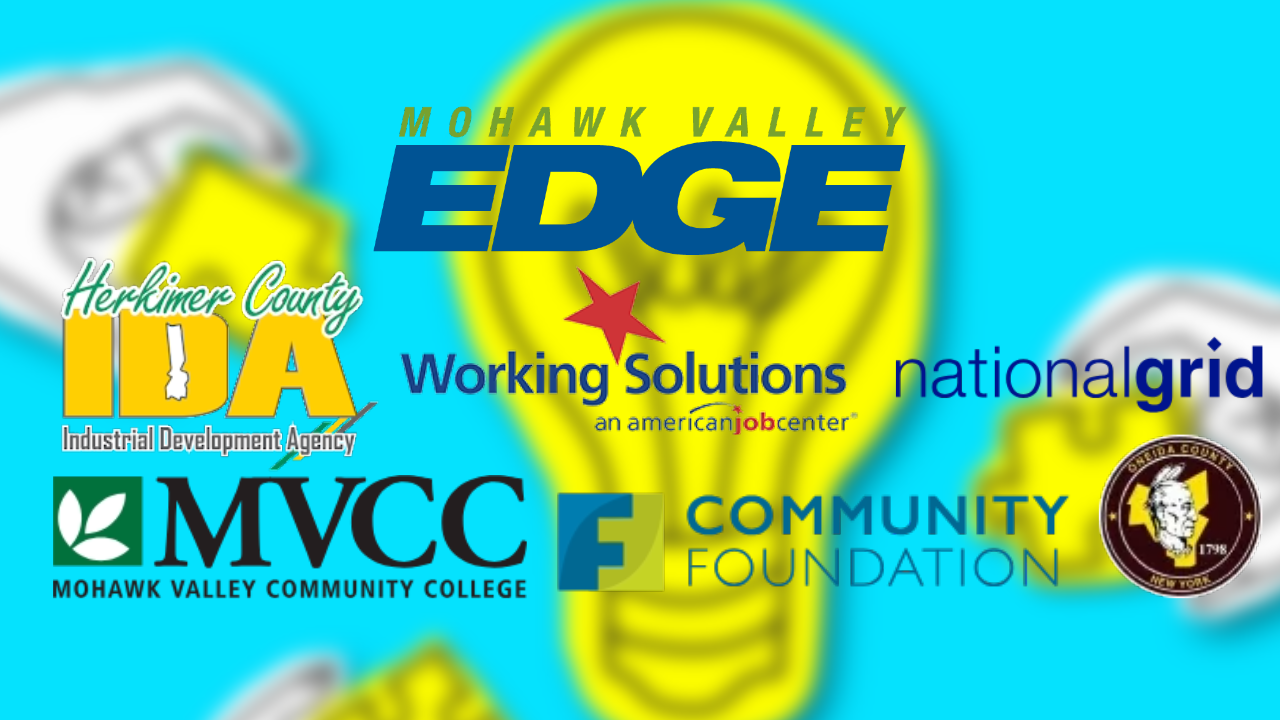 We also appreciate the impact of the following EDGE supporters!
Adirondack Bank
Adjusters International/Rising Phoenix Management Group
AmeriCU Credit Union
Assured Information Security
Bankof Utica
Berkshire Bank
Cathedral Corporation
Excellus BlueCross BlueShield
First SourceCredit Union
GPO FederalCredit Union
Gilroy Kernan & Gilroy ,Inc.
Hayner Hoyt
Indium Corporation
JBSDirt, Inc.
KeyBank
M&T Bank
Matt Brewing Company
McQuade & Bannigan, Inc.
Mohawk Valley Health Systems
Mohawk Valley Water Authority
NBT Bank
NYSTEC
Northland Communications
Oneida Indian Nation
Pacemaker
Pathfinder Bank
Revere Copper Products, Inc.
Roberts Office Interior(ROI)
Saunders Kahler, L.L.P.
Scalzo, Zogby & Wittig
Utica National Insurance
Utica University
Valley Health Services